Rectangle Trampoline – 5 Best Rectangular Trampolines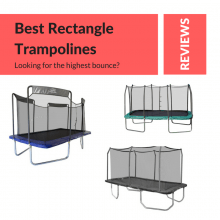 Are you considering buying a rectangle trampoline?
We will help you determine if they are the right fit for your jumping needs. Check out our recommendations for the best rectangle trampolines available today!​
​Round vs. Rectangle Trampolines
There are a few key differences between round trampolines and rectangle shaped trampolines.
First is obviously the shape: one is round and one is rectangular.
The second difference is how the bounce is influenced.
Round shaped trampolines have springs evenly surrounding the jumping mat, causing the jumper to gravitate towards the center of the trampoline. Round trampolines are ideal for a single jumper at a time due to this inward force.
The overall jumping power and bounce of a rectangle trampoline is superior to any round trampoline on the market. This is why professional gymnasts and the Olympics only use rectangular shaped trampolines in competition. If you are looking for the highest bouncing trampolines or want to have enough air to do tricks, rectangle is the way to go!
Rectangle trampolines have uneven tension on the springs due to the shape, which allows the jumper to have more control over their direction. Another key point, rectangular trampolines do not force the jumpers to the center, allowing multiple jumpers to participate with less risk of colliding in the center of the mat.
Top 5 Rectangular Trampolines
​These rectangle trampoline reviews are our handpicked recommendations. If you are looking for superior bouncing capabilities for endless air and tricks, these trampolines will send you sky high!
Rectangular Trampolines Have a Less Controlled Bounce
As mentioned above, a rectangular trampoline does not control the bounce as much as a round trampoline. This is important if you have young kids or inexperienced jumpers because they could fall off the trampoline and injure themselves if they do not know how to direct their bounce.
The upside to having less pull to the middle of the jumping mat is you can have multiple jumpers on the trampoline at a time. They will not be forced to the middle and will have less chance of crashing into each other. If you are going to have multiple jumpers or younger children jump on the rectangle trampoline, make sure you have a quality enclosure to keep them safe while jumping.​
Rectangle Trampoline Safety Tips
Make sure the jumpers are familiar with the uneven bounce of a rectangle trampoline. If the jumpers are only used to round trampolines, they may be disoriented on a rectangle trampoline the first few times around.
Buy an enclosure to maximize safety. There are many rectangle trampolines that are sold without an included safety enclosure. If you have younger kids or are going to have multiple jumpers on the trampoline at the same time, a safety enclosure is an absolute must.​
If you are having issues with jumpers colliding, have jumpers alternate turns. Only allowing one jumper on the mat at a time will greatly reduce the risk of injury.​